I love saving time and I believe you do too. The other day I made a post about the
2 products that changed my life
. And the Instant Pot was one of them. For a long time, I was that kind of person that cooked every night and prepare the lunchbox for my next day at work. Every night I had to think about a new food and usually, I got lazy and just made a pasta.
Then I started to cook and freeze. And forgot about removing them from the freezer to thaw on the fridge overnight. And when I remember, the food didn't taste that fresh. Because, well, I cooked and froze them.
You're going to need an Instant Pot to follow this guide, you can buy yours 
at Amazon
 if you don't have it.
I know this sounds like an obvious step, but I want you to take some time to figure out what you're going to eat. I am talking about saving money too, the more meal prep you make the more you save.
Are you the type of person that doesn't like to eat the same thing every day? Then you have to think about 7 meals per week, or 5 if you want to eat out on weekends.
Every recipe I choose must be enough for me and my husband eat for 2 days. And the recipes I pick are the main course, the meat.
Also, I have a standing freezer but the drawers are not big, so I can't make 30 meals to freeze.
Make a list of all the ingredients, then make a shopping list and go buy the ingredients.
2 | Choose your containers
The shape you're going to freeze your meals makes a huge difference on how many you can make. I use
Ziplocs
, the good quality ones, so I can reuse them later. I freeze them horizontally and when everything is shape up I turned them to vertical like a file and it's easy to find. You have to chose the size of your Ziplocs based on the size of your Instant Pot.
I also like to use Ziplocs because it's a nice way to marinate a meat without touching anything. Just throw the ingredients in the bag, close it and shake it.
(Keep in mind that spices accentuate their flavor while frozen)
If I am doing something specifically for the oven, I use those aluminum containers and stack them in the bottom drawer.

You're not going to cook on the freeze day. You're only going to cook on the day you remove the pack from the freezer. And the pack will go straight to the Instant Pot 😍. If the plastic is stuck, just leave it in a bow with hot water for a few minutes.
The Assembling day is the day to make your kitchen looks like a mess because you're going to need the many hands available to make stations.
The veggies cuts stations, the meat clean and cut stations, the recipe assemble station.
Make a Pinterest board, or Trello board, or print all the recipes you are going to freeze this day. Don't skip this step or you're going to hate yourself in the future.  As I reuse Ziplocs I don't write the name of the recipe on it. I write a number, so I can find easily on my Trello board.
To assemble you will need something to hold the Ziploc in place. I put the heaviest item first and then, I add all the other ingredients later. If there is more than one sauce in the recipe, what I do is putting the 2nd sauce on a different Ziploc and then adding that inside the bigger one.
If there is no sauce on the recipe, remember that on the Cooking day, you must add water or broth to the Instant Pot.  The amount of liquid must be specified in the recipe.
4 | Side Dishes Meal Prep
How long do you think a produce can stay in the fridge before it goes bad?
Cooked rice – up to 4 days
Lettuce – up to 8 days
I noticed that if I mix the salad, the produce goes bad earlier than if each one has its own container. I was at the Superstore last year and I found this container that makes vegetables, legumes, and berries last longer. It's amazing🤩.  I found a similar one, same brand here.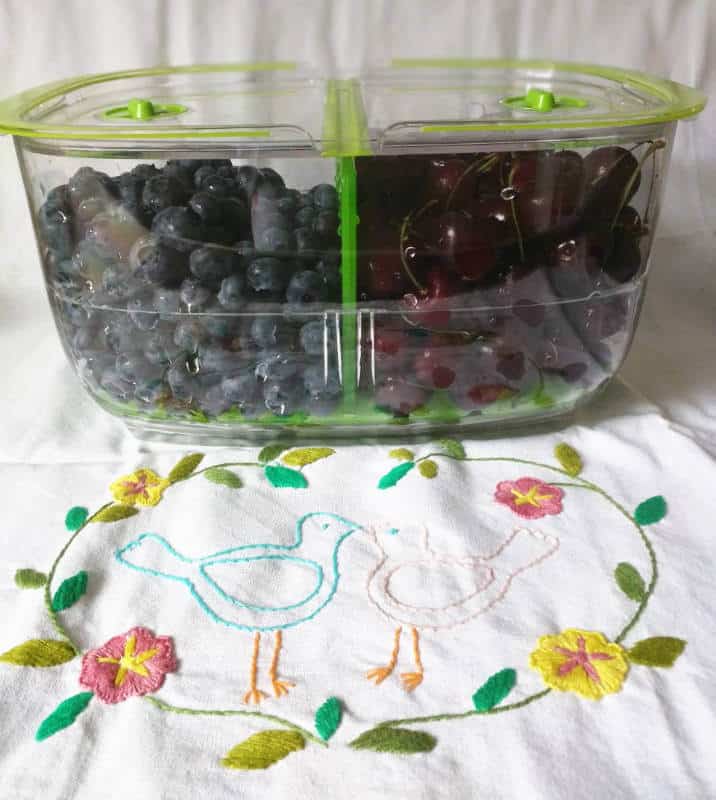 So, what we do is, we open the containers and put the salad together on the day we're going to eat. This way we always have a fresh side dish. And the fridge is not cluttered with small tupperwares. I also make rice enough for 3 days (1 cup of raw rice) and if I am feeling adventurous I cook something different. I saved so much time with the
Instant Pot
that I can feel adventurous at the kitchen.
Do you do frozen meal prep? Do you have a guide you follow? Share in the comments.